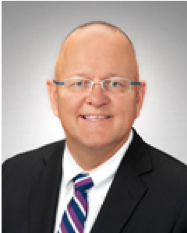 Dr. Phrampus is the Director of the Peter M. Winter Institute for Simulation, Education and Research (WISER). He received a B.S. in Biology from Old Dominion University and an M.D. from Eastern Virginia Medical School in Norfolk, Virginia. He is a Professor in the Departments of Emergency Medicine and Anesthesiology of the University Of Pittsburgh School Of Medicine. Dr. Phrampus is the Medical Director for Patient Safety of the UPMC Health System.
He has overseen the expansion of WISER capabilities in developing a distributive model of management for the main campus of WISER as well as the satellites centers that have been deployed throughout the UPMC Health System. Dr. Phrampus has been very active in-patient safety efforts throughout UPMC. He is an active member of the Quality Patient Care Committee of the UPMC Board of Directors.
Dr. Phrampus led a team to create an airway algorithm and an accompanying difficult airway management simulation course specific to the practice of Emergency Medicine. This program has now been completed by hundreds of practicing Emergency Physicians. This program and its safety oriented principles have been deployed across the emergency departments of the UPMC Health System as well as other institutions across the country.
Dr. Phrampus has an extensive background in Emergency Medical Services and serves as an active EMS medical director. He has deployed simulation technology for both testing as well as competency assessment measures in EMS services in Southwestern Pennsylvania. He led a team to develop a difficult airway management for EMS providers which is targeting the 2,000 paramedics in the Southwestern Pennsylvania area.
Dr Phrampus is a co-creator and course director of the internationally acclaimed simulation instructor training program called iSIM(Improving Simulation Instructional Methods).
Dr. Phrampus serves in a leadership role in national simulation efforts. In 2013 he served as the President of the Society for Simulation in Healthcare (SSH), the largest multidisciplinary simulation organization in the world which currently has over 4,000 members. He co-chaired the 2011 International Meeting for Simulation in Healthcare (IMSH), the largest meeting of multidisciplinary simulation experts and enthusiasts on record, with over 2,600 attendees. He is an inaugural member of the editorial board of the journal Simulation in Healthcare.
Dr Phrampus has an appointment in the esteemed University of Pittsburgh's Academy of Master Educators. He has been active in education for many years and won numerous awards as a faculty educator. He seeks to increase the efficiency and effectiveness of learning and developing models of assessment methods for practicing healthcare providers to improve the quality of healthcare delivery.
He has traveled extensively around the world conducting lectures, simulation workshops, demonstrations and assisting in proliferation of successful simulation start-up programs. In addition to the United States his education efforts have included academic institutions and hospitals in Australia, China, Germany, India, Indonesia, Israel, Italy, Japan, Philippines, Saudi Arabia, South Korea, Singapore, and Thailand. Dr Phrampus has extensive experience with computer systems and electronics, an interest developed during his seven years of service in the United States Navy.